St. Anne's Convent Kodalipet
It was in the year 1992 that Fr. Vincent D'Souza, the then parish priest of Gopalpura of the diocese of Mysore expressed his cherished desire to have a convent at Kodalipet in order to educate the children of that area and to reach out to the poor and needy through socio-medical apostolate. Fr. George Martiz, Dean of Madikeri and Mr. Henry Pereira were the guiding force behind Fr. Vincent. When this desire was placed before the bishop of Mysore, Rev. Dr. Michelappa, he was very happy to invite our sisters to start a new foundation at Kodalipet. Mother Margaret Mary, the then Superior General and her team accepted the invitation gladly. Hence on 31st May 1992 Srs. Roseline Joseph and Lydia landed at Kodalipet accompanied by Sr. Angela Merci (Asst. General) and Sr. Francina (Superior of Mysore Community). Later Sr. Tonita also joined the community. In the beginning, the sisters stayed in the house of Mr. Richard Lobo in the estate and they continued to be there till they moved to our own house in March 1993.
On 1st June 1992 the school was started in a rented building in the town with 25 students.  The school started functioning in the newly constructed building from 22 November 1992. As regards the convent building, it was blessed on 24th March 1993 by Fr. Joseph Thelly, the administrator of Mysore diocese. Mother Margaret Mary inaugurated the building. On 20th October 1993, the foundation stone for further extension of the school building was blessed by Fr. Alexander Joseph. On 29th May 1999, permission was given by the government to start the high school. Although we had a dispensary opened, it was closed down after some trying time.
The important thing is our Christian presence in the town of Kodlipet. The parish is quiet far, yet sisters involve themselves in the Church activities as best as they can. Christ is definitely made known through our service to the people there.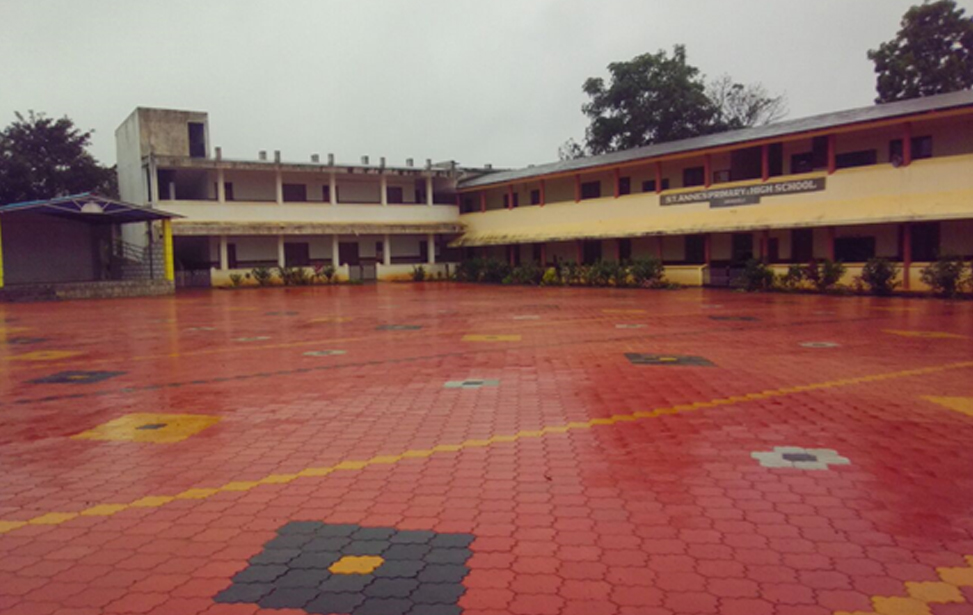 St. Anne's Primary and High School, Kodalipet